T A P E Collective presents: Tracing Entanglements + Q&A
BLOOMSBURY THEATRE
THURSDAY 25TH MAY
20:30 – 22:30
Book tickets
Inanimate objects come alive, they are memories, and fragments of a past; a message from another world. One for us to interpret. We interpret objects and photographs as much as we label them to be of significance. That connection you can't shake, has its rope coming undone by time and distance; making the lingering feel unreciprocated in the moment. Yet, the entanglement is breathtaking, and sometimes untraceable.
What is that lingering feeling which insists that archives, and memories are something to hold on to, to cherish, preserve and bring back to circulation. Entangled Encounters probes deeper into the objects and memories we hold onto. In a time of minimalism and spring cleaning how do we know how to hold on to something and why can't we let go?

The programme explores our best ability to piece together the fragments of our heritage and ancestry; whether of memories, photographs, legends, folklore or objects.
Birthright
Birthright is a mesmerising convergence of history and ethereal worlds; a transformative expression exploring selfhood, bodies, power and rituals as the artist reclaims their Yoruba heritage.
dir. Jade O'Belle ~ 7 min 33 sec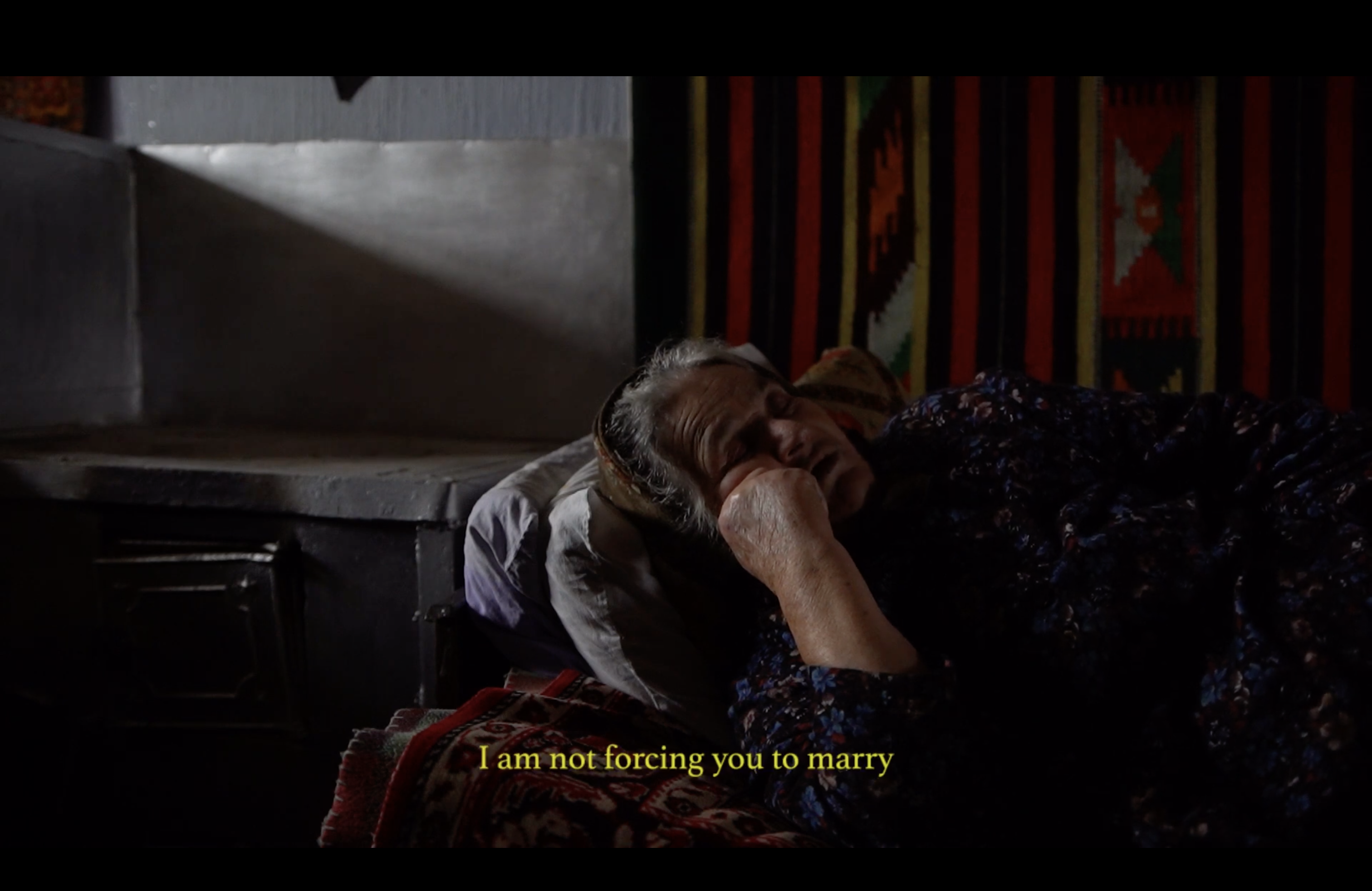 [Un]settled
In a village from the Republic of Moldova, a girl tries to navigate her relationship with her grandmother who insists that she should get married and settle down. Focusing on her grandmother's presence, Siretanu records the trivial day to day life, observing the deployment of domestic space and female identity.
dir. Elena Siretanu ~ 11min 45sec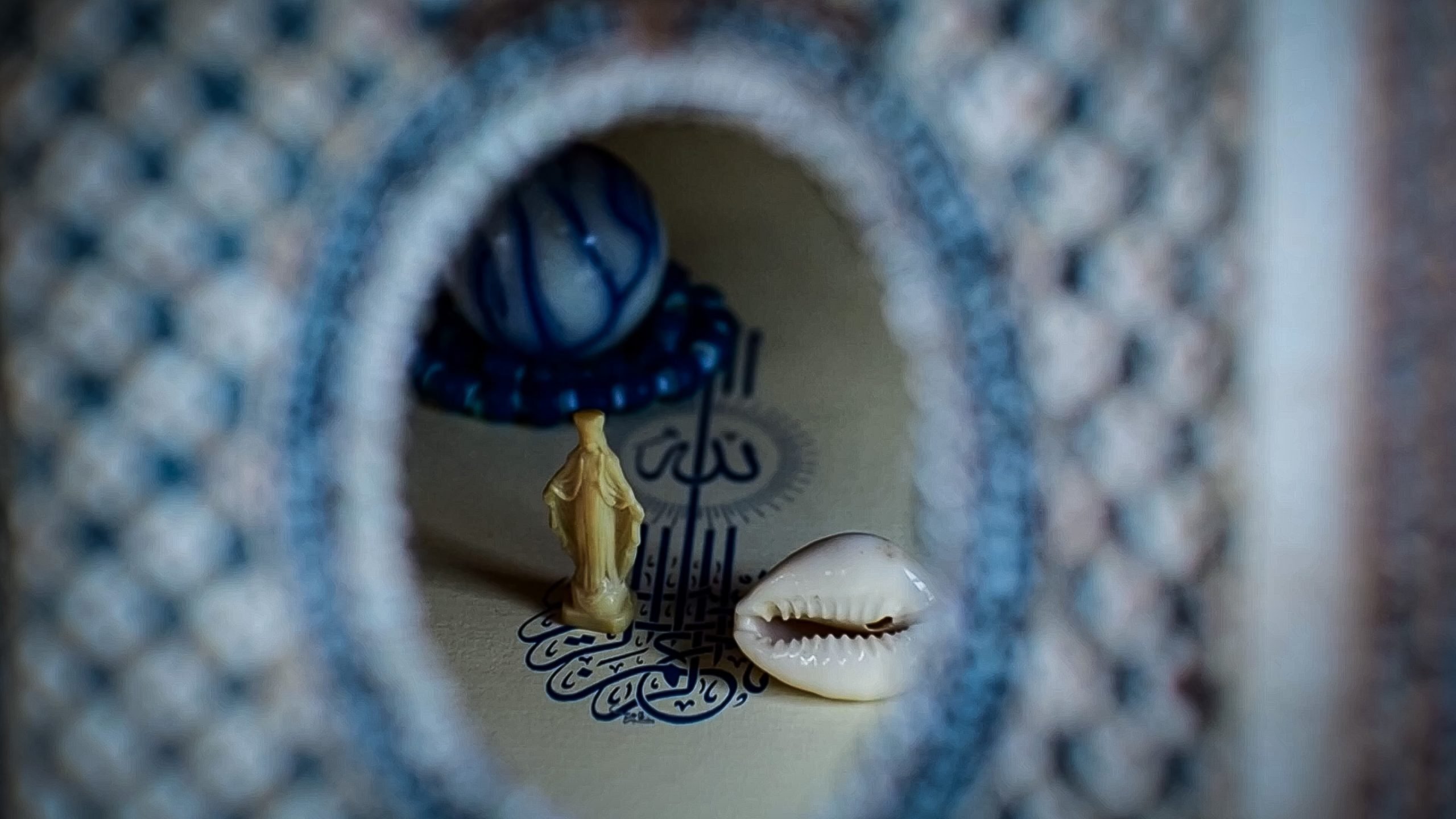 Shell Fables ~ a Curious Cabinet of Beings & Becoming
Curious things survived decades of filmmaker Salma Ahmad Caller's English mother and Egyptian father's lives - juxtaposing things that seem to belong to 'opposing' cultures creates strangeness and blurs boundaries. These Things are also witnesses to strange and forbidden encounters across divides created by ideologies, imagined and constructed difference, power and desire. Each thing acting within the cabinet is a disruptive fragment that can never really be pinned down or catalogued. Any notion of nationality, identity or fixity is constantly disturbed, any attempts to curate wholeness or completeness fails.
dir. Salma Ahmad Caller ~ 17min 30 sec




Once Upon a Time
A film poem in which human consciousness intertwines with the element of water. The eternal clash between the urge to look back and the awareness of space and time ahead. The film resists a closed life narrative by negating a reductive assessment of one's history.
dir. JiYoon Park ~ 5 min 21 sec
The Sparrow is Free
In an empty house, a young woman hears a voice. The tales it evokes lead her to recreate scenes from her grandmother's past life. As she voices her own story, the film weaves her experiences together into a broader narrative of self-determination.
dir. Niki Kohandel ~ 2021 ~ 14 min
My Mother's Mother
A lyrical meditation on how mothers move us across borders, My Mother's Mother is a film about mothers, cycles of migration, cycles of life, death, and rebirth, tracing the umbilical cord like the root that it is. Exploring the lingering past lives of our mothers, and our grandmothers, drawing upon the filmmaker's matrilineal lineage, Asena Nour untangles the memories, stories and histories that make up this generational saga about womanhood.
dir. Asena Nour ~ UK ~ 2022 ~ 2 min




Ishtar
An experimental short film influenced by the Mesopotamian deity Ishtar. Five guests - who are gender non-conforming, trans or non-binary - hold a feast in a fictionalised English country garden to explore both the history of their ancestors and their present-day selves.
dir. Mica Georgis ~ 6 min 30 sec